Finding Your Niche Business
---
In the beginning you'll need help finding your niche business. Ideas for businesses are everywhere, however, deciding what "niche" you would like to pursue is not as easy as it seems.
There are many things to consider before choosing what type of business you want to start. The first thing you need to do is figure out what you love to do. You can't just "like" the thing that you decide to pursue as a business. Finding a niche in your life's passion means it has to be something you love.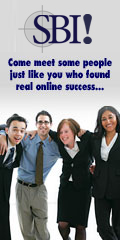 If you need help finding your niche and then determining the marketability of the chosen niche I suggest SiteBuildIt --a one stop source for a host of business evaluating, building and marketing tools.
If you're looking to go from a few ideas for a theme related website to a fully functioning website that establishes you as an expert in your chosen niche business, it's worth your time to take a look at SiteBuildIt. And there is no underestimating the importance of having your own website. It is the single greatest way to make your presence known to your audience, especially if your chosen niche is more competitive than average.
If your goal is to make your site sell, I highly recommend SiteBuildIt. There are also many great books available on every subject related to business. One of the most enlightening books to read about niche marketing is The Long Tail by Chris Anderson. This book will open your eyes to how marketing to one targeted niche will solidify your position in the future world of e-commerce.
And it goes without saying that you want to market to an audience that needs and will pay for your product or service. Paul and Sarah Edwards have authored many great books for the self-employed. Like so many of their books, Getting Business To Come To You offers many great marketing ideas and is well worth reading. There is also an abundance of material floating around in cyberspace. Do a search for marketing tips and you will be on line for days absorbing all there is to read. And don't forget your neighborhood library!
Finding a niche is not the difficult part. Finding your niche--the one for which you were born to cultivate--is the challenge.
One last bit of advice--don't settle!! Take your time and invest in finding the right niche. You might just discover a hidden interest that ends up being just what you were looking for all along!


Return From Finding Your Niche To Home