Your Niche Business
Needs A Website
Should your niche business have it's own website? A better question is how much do you need to spend to develop a successful site? The key word in that sentence is "successful."
Success doesn't mean flashy and full of bright colors and special effects. Sure, that might work if you are a clown or a magician. But the majority of people searching the internet for information are not as impressed by style as they are with substance.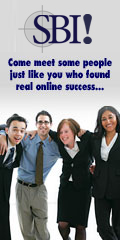 So, ultimately, you want visitors to stay on your site long enough to check out your niche business and decide that the experience was worthy of a repeat visit.
Is the site easy to navigate?
Can visitors find what they're looking for?
Can they opt in to your e-zine or find other related products and services right from your site?
Can visitors send you feedback and easily contact you with any concerns or suggestions?
And will they refer your site to friends they have made chatting in forums or responding to blogs?

Once you determine that you need a website for your niche business the next critical question becomes do you pay someone else to build the site or build it yourself? Let me just say that I was faced with this same question and thought there was no way I could ever build a site myself.
I learned how to build marketing-your-niche-business.com with a program from SiteBuildIt. The company takes you on a 10 day crash course to build a website. Let me tell you, it will take more than 10 days to truly absorb the wealth of information delivered by SiteBuildIt. Many companies offer you a "cookie cutter" system for building an online presence, but very few companies have the tools that help you go from concept to a successful top ranking site like SiteBuildIt. But, don't just take my word for it. Check out the testimonials from some of the many satisfied SiteBuildIt customers.
Any good program worth the asking price should also be able to help show you how to effectively drive traffic to your website and should include as many helpful resources for you before, during and after you have built the site. One of the most common mistakes by business owners is a failure to regularly update the content on their site. Another is a poorly veiled attempt at search engine optimization.
But the intent of this article is not to scare you away from building your own site. It can be done. It has been done by people with less computer and online skills than me and you. Building a successful online business is no different from building a successful off line business. It is work. But use the resources that are available and you will have a site--and therefore a business--that you will be proud to call your own!!
Return From You Need A Website To Home